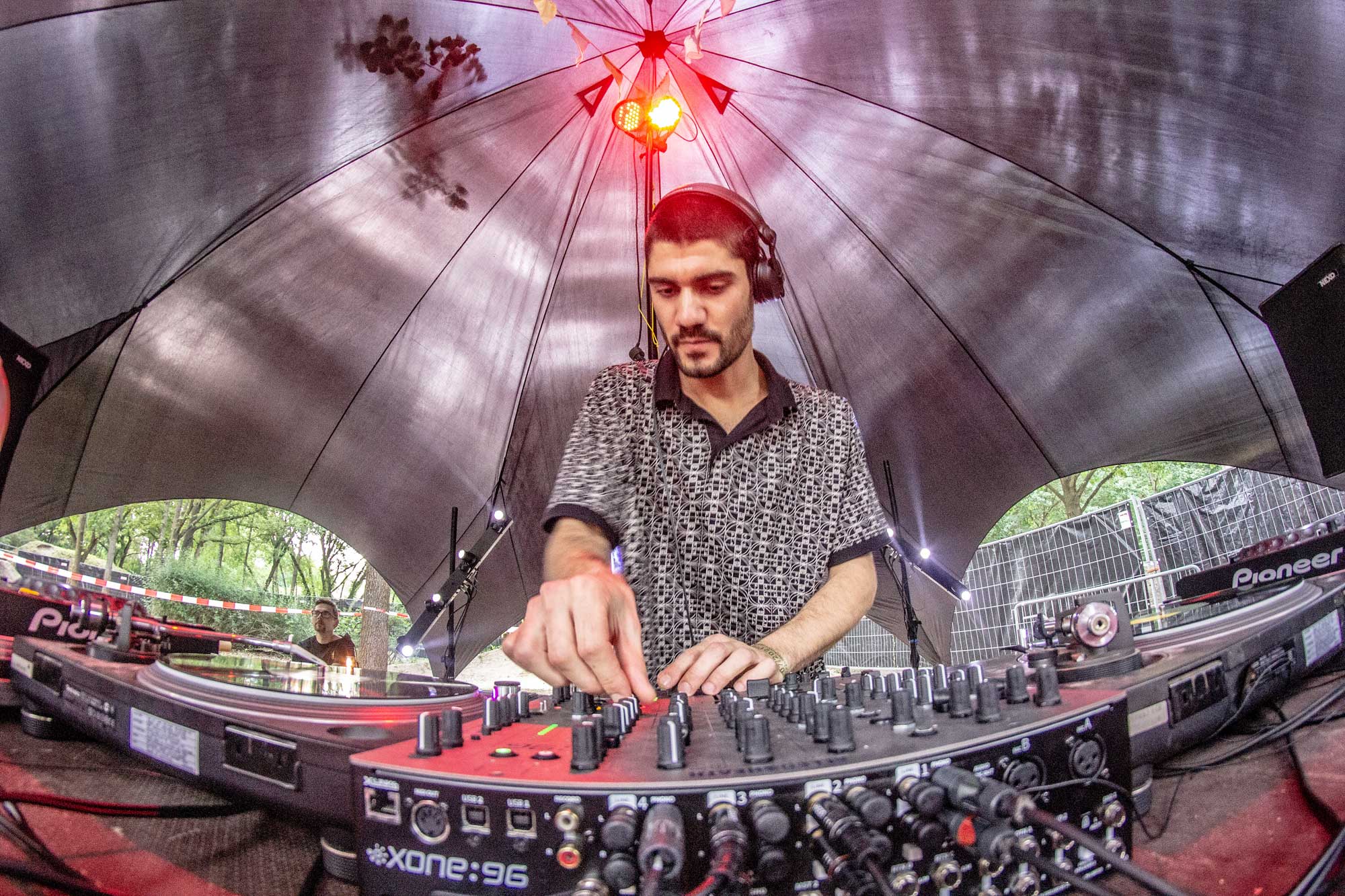 Oliver Reissig, also known as Deskai, Synox, Dubaxis and Spasmik, is a french, german, syrian and argentinian DJ / Music Producer and Mastering Engineer. Born in Paris, France, he follows his ambitions in Berlin, Germany since 2012.
Mainly focused on Drum & Bass and Techno, from atmospheric soundscapes to dancefloor bangers, Deskai found a balance between these opposites due to his versatile creativity and wide music tastes.
A drummer since 15 years, Deskai developed skills as a composer and racked up countless hours, both in the studio and on stage with numerous bands, varying from Jazz to Hardcore Metal. The various musical directions he encountered along the way allowed him to establish his own style in the vast world of electronic music.
His great fondness for the music and club scene of the 90's has inspired him to produce and mix tracks influenced by this legendary period in music history. To bring the masses a fresh sound created with an old school style, yet with new production techniques, has driven Deskai to continue on his path as both creator and lover of music.
After countless years organizing and performing in metal music concerts, Deskai decided to turn his attention to the electronic music scene.
DJ and event promoter alongside Lenny Shogun between 2010 and 2014, with residencies at parisian clubs such as Le Batofar, Glazart, OPA Bastille, and 4 Elements, he organized the Subwax / Groove Station events and shared the stage with various well known artists from the Techno and Drum & Bass scene.
A notable chapter during this period was Deskai's winning entry in a contest organized by the legendary Renegade Hardware label. His deft skills behind the decks led Deskai to perform at « Subland » alongside the label's head DJ Ink and Cold Fusion at a truly memorable « Renegade Hardware Session » held in Berlin.
With strong worldwide DJ support of his music from LTJ Bukem (Good Looking Records), DJ Ink (Renegade Hardware), Renaat Vandepapeliere (R&S Records), Paco Osuna (Mindshake) and more, Deskai has released numerous Jungle / Drum & Bass tracks to labels such as: Renegade Hardware, Scientific Records, Next Phase Records, Warm Ears Music, Offworld Recordings, Modulate Recordings, Omni Music, Monochrome Recordings, Soul Deep Recordings, Liquidz Spirit, and signed also several Minimal / Tech House tracks on labels such as: Klectik Records, What Now Becomes, D-Lab Records, Sub.spiele Records, SuperPitch & more…
2019 – 2020:
• Mastering Diploma
HOFA College (Berlin / Karlsdorf, DE)
2018 – 2019:
• Mastering Audio / The Art and The Science
Bob Katz first edition (further education)
2010 – 2012: 
• Audio Engineering Diploma
SAE (Paris, FR)
2006 – 2008:
• Electronics Engineer Diploma
Technical college for electronics (Paris, FR)
2006 – 2007:
• Mix / Mastering formation
Urban Groove Studio (Paris, FR)
2002 – 2006:
• Secondary school certificate
option classical music and german (Paris, FR)
__________________________________________
2005 – 2021
• Music Producer / DJ
Freelance (Berlin, DE)
2012 – 2021
• Mastering Engineer
Freelance (Berlin, DE)
2014 – 2015
• Chief Operating Officer
Berlin.waxx – Record Store (Berlin, DE)
2006 – 2014
• Event Manager
Le Batofar, Glazart, OPA Bastille, 4 Elements (Paris, FR)
2009 – 2010
• Backliner
Emergenza Festival – Gibus, Elysée Montmartre, Alhambra (Paris, FR)
2009 – 2010
• Event Promoter
Co2 Activity / Radio Nova (Paris, FR)

__________________________________________
2009 (2 months)
• Studio Sound Engineer
Coaching-Voix Off (Paris, FR)
2009 (1 month)
• Live Sound Engineer Assistant
Elysée Montmartre (Paris, FR)
2009 (3 months)
• Live Sound Engineer Assistant
New Morning (Paris, FR)
2008 (1 month)
• Live Sound Engineer Assistant
La Scène Bastille (Paris, FR)
2007 (1 month)
• Studio Material Maintenance
Liberty Rock Studio (Paris, FR)
2006 (1 month)
• Printing Assistant
Druckerei Brochmann GmbH (Essen, DE)